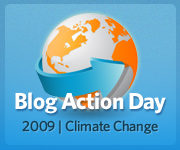 This is a post for Blog Action Day 2009: Climate Change.
A few years ago, I wrote a post for Blog Action Day presenting ideas for creating art in more environmentally friendly ways – Making Art Without Unmaking the Environment. Art supplies and other byproducts of our work is notoriously toxic. Just like businesses and construction are changing to be more green, artists must update their ways of working as well, to minimize their long term affects on our planet.
But artists are more than businesses manufacturing a product. We are cultural messengers. We are here to speak about and reflect things that are important to us and our cultures. One common message we have been signaling, regardless of our country or medium, is that we must pay more attention and care to our planet. The Earth's climate is changing, and we must take action to stop or reverse it. According to the United Nations, "There is alarming evidence that important tipping points, leading to irreversible changes in major ecosystems and the planetary climate system, may already have been reached or passed." The Earth is the only home we have, along with the millions of other species who share it with us.
If you disagree with the idea that the climate is changing, or that humans are causing it, I would only ask you to consider the odds and the consequences. Many scientists believe this is happening and it is caused by human action. But what if you're right, and it was only a 50/50 chance we were responsible. Do you think humanity's fate, and the fate of many other species, should be decided by the toss of a coin?
So what are artists doing to make a difference? Here are some stories about artists affecting our collective approach to climate change through their work. There are many great stories of well known musicians and filmmakers putting together concerts, films and other events to make a big difference. But I wanted to shine a light on people you might not have heard of.
Now, how can you make a difference? Here are pointers to more information about grants and funding, exhibitions, shows and more. If you know of other resources, or other stories about artists making great work, post a comment below and I'll continue to update this post.
Climate Change Art Resources
Climate Change Art Exhibitions, shows, festivals
Participate or Die, Wooloo.org. Wooloo.org is organizing the people of Copenhagen to open their homes to thousands of environmental artists during the United Nations (UN) Climate Change Conference in Denmark this December. By asking artists to develop happenings and reflections for a new life – and then request that thousands of participants implement them – Wooloo.org aims beyond the traditional art exhibition to become an active organizer of experiments in civic engagement and social empowerment.
Lake, a journal which publishes contemporary art that engages with ecological issues.
ecoartspace, promotes a diverse range of artworks that are participatory, collaborative, interdisciplinary and uniquely educational. "Our philosophy embodies a broader concept of art in its relationship to the world and seeks to connect human beings aesthetically with the awareness of larger ecological systems."
Climate Change Opportunities for Artists
Calls for Artists, Grants, Residencies, Commissions and more
Get the work of Thomas Moran, Henry Jackson and Subhankar Banerjee.
Related posts:
posted by Trout Monfalco